If you want to play a hack and slash, action, RPG Indie game on PC today – there are many that come readily to mind. But not many will be as immersive and as fun as Nobody Saves The World. That's right! This Indie game developed and published on January 18, 2022 by DrinkBox Studios is sure to keep you playing for long hours at a time.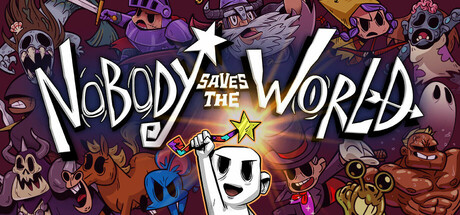 But why is this so? – you might ask, well, for starters, the dynamism of the player character sees you transforming from one form to another like a Dragon, Ghost or Slug. 
Each form your character transforms into will bring a unique set of skills and abilities to the table. This is just one of many features that is sure to leave gamers in awe when they set out as "Nobody" to save the world from imminent doom.
Nobody Saves The World Gameplay
This game takes off when a "Calamity" rooted in ancient times is re-awakened. The Calamity seems destined to ravage the world and leave it in utter ruin. But can anyone save the planet from destruction? Did I hear you say Nobody! Yes, Nobody can save the world and Nobody is actually somebody and that's your player character. 
Nobody is a shapeshifter that can transform into different beings that would prove helpful in his quest to rid the world of Calamity. Shape-shifting is an art form and you'll need to perfect your craft in order to unlock more than 15 different unique forms in this game. 
As you advance through the video game by completing seemingly impossible quests, you will uncover new forms to change into. You can mix up and even match the various abilities of the forms on offer to give you an edge in tough quests. 
This open world game throws up many intriguing sub-plots that you can experience on your own in a single player mode or with your close pals in an exciting multiplayer adventure.
Key Features Of Nobody Saves The World
There are many features that make Nobody Saves The World tick. Here are the key features you should know about:
Shape-shifting
As mentioned already, you can transform Nobody into somebody by unlocking more than 15 unique forms. You can change to a Rat, Ghost, Robot, Rogue, Dragon, Slug, and so on. Each form you change into will allow you to evade or battle enemies, or even solve complex situations in order to advance in the game. 
Ability Matchups
You are allowed to combine the more than 80 abilities derived from all the forms you can transform into. This ensures that you can fully customize the abilities of Nobody creating your own unique character in the game. 
Subplots A-plenty!
There are many subplots in this game. First of all, each form you take up has a specific number of quests that they have to complete. This is in addition to the different side-quests available like helping to solve the problems of inhabitants of the wacky world. 
Dungeons Evolve
One thing about Nobody Saves The World is that the dungeons evolve to match your character's strengths and advanced skill level.
Multiplayer Mode
The multiplayer mode allows you to bring along a friend on your adventure to save the world from Calamity. 
To add to these features, you also have a great soundtrack that is in tune with each and every scene in the game. The new original music score is provided by Jim Guthrie, a renowned composer.
DrinkBox Studios Marks Anniversary With New Impossible Dungeons Update
It may interest you to note that it's been one year since Nobody Saves The World was first published by DrinkBox Studios. This Indie game was released on January 18, 2022 for Windows PC.
To mark this milestone, DrinkBox Studios released a brand-new Impossible Dungeon update. This update includes a new form – a Dinosaur, that Nobody can transform into once the form is unlocked following the completion of the Impossible Dungeon area. 
In addition to this new form, the developers also introduced "Endless" dungeon, a new area within the Impossible Dungeon environment that comes with a carnival-style theme.
Nobody Saves The World is available today on Steam for $24.99 (Standard) and $32.27 (Complete Bundle). This Indie game has been met with very positive reviews since its release and continues to attract rave reviews to date. 
You can play this game on Windows 10, 8 or 7 systems with a 2GHz processor, 1 GB RAM memory, and 2 GB minimum storage capacity and Shader Model 5.0 (DX11) graphics. 
We must say that Nobody Saves The World is a truly fun, addictive and immersive game to play. We urge you to check this Indie game out now, if you haven't already.