If you are one of many gamers that has bought their own copy of Hogwarts Legacy on PC, Xbox Series X/S and PS5, then congratulations to you! 
This game built on the success of the Harry Potter franchise takes place way back into time, the 1800s to be more precise, and your character has to make his way on the wizarding world while enrolling as a student at the institution.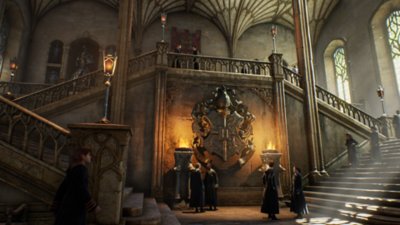 We are almost certain that you have a million and one questions to ask, and why wouldn't you?! So based on our survey, we have come up with this list of FAQs on Hogwarts Legacy.
How in a Full Moon do I get a Witch's Broom?
Here's an easy question. You can unlock a witch's broom pretty much at the start of the game or thereabout. But if you want to get a much improved, upgraded version of your broom, then you will need to buy at the exclusive Hogsmeade – Spintwitches Sporting Needs shop.
Tip: 
You can purchase a broom as early as you want in the game. So if you are yet to unlock a broom, it's possible you haven't played the game enough to earn one. 
How do I Upgrade My Witch's Broom?
In Hogwarts Legacy, upgrading a broom requires completing the trials, which include flying through a series of rings. Maximize your score by obtaining as many rings as possible.
Now that you've completed the trials, you may check your time to see whether you've beaten the quickest time, and if you have, you can conclude the quest by talking to Imelda and then Weekes. If you are able to finish the trial faster than anybody else, Weekes will give you a new broom.
However, there is a little fee associated with the broom update; be prepared to pay 1,000 for the enhanced broom when your new improved witch's broom is available for pickup, you will be informed by The Owl Post.
You may also further enhance your newly acquired broom by once again completing and passing at least two more timed flying trials set by Imelda. Weekes will fill you in on all the enhancements.
You'll need to have a broom first before you consider enhancing it. As you advance through the game, you will unlock a variety of brooms. It's possible that more brooms will be introduced to the game at a later time, but below is a list of the witch's brooms (and their purchase price at Spintwitches Sporting Needs) available to you in Hogwarts Legacy. 
Bright Spark Broom

Lickety Swift Broom

Night Dancer Broom

Wild Fire Broom

Ember Dash Broom (600)

House Broom (600)

Moon Trimmer Broom (600)

Wind Wisp Broom (600)

Yew Weaver Broom (600)

Family Antique Broom (2500)

Aeromancer Broom (3000)

Silver Arrow Broom (5000)

Sky Scythe Broom (5000)
How many hours does a typical day at Hogwarts last?
How long does a day truly take to play out in the Hogwarts Legacy? The game constantly alters as it cycles through the day and night.
Our best guess is that the transition between day and night in Hogwarts Legacy is mission- or story-driven rather than occurring at regular intervals.
Therefore, if you are doing a task that takes place at night, the game should cycle you to night automatically.
Aside from when it's night and day based on the game's narrative, you may also choose when it's day and night based on your own preferences.
Once you've finished the Welcome to Hogsmeade quest, you'll unlock the ability to manipulate time by clicking the Wait button on the world map. Then, you may decide whether to go from night to day.
Does Hogwarts Legacy include Newt Scamander?
Newt Scamander is unfortunately one of the characters absent from Hogwarts Legacy. The events of the game occur before he was born. So that basically explains why he's not in the game.

You can't alter your mind about the house you're playing in once you've decided, so think carefully before committing. To begin choosing a house, one must first sit in the chair with the sorting hat and respond to a series of questions.
If the sorting hat did not place you in the house you personally would have chosen, you may still switch houses, but this is done manually. Gryffindor, Slytherin, Ravenclaw, or Hufflepuff are the main houses offered in Harry Potter video games.
Hogwarts Legacy Launch Date
Hogwarts Legacy was launched on February 10, 2023 for PlayStation 5, Xbox Series X|S and PC.
However, for PlayStation4 and Xbox One gamers, Hogwarts Legacy will be released  on April 4, 2023 while Nintendo Switch players have to wait till July 25, 2023 for DLC.
Tip:
Rather than wait till the release date of Hogwarts Legacy on PS4, Xbox One and Switch, you can take advantage of the pre-order today and have early access to the game once available.
As we continue to play Hogwarts Legacy, we will eventually provide you with many more tips and answers to nagging questions about the game. And oh, stay tuned, so you don't miss out on any cheats that we uncover to help you advance in the video game.