Explore Citizen Sleeper, a ruined space station filled with characters from all walks of life, forge alliances as you navigate the factions and dangers of Erlin's Eye.
In a future world where corporations have taken over and humanity is marked by exploitation and extraction, Citizen Sleeper takes players on a thrilling journey through a ruined space station on the edge of a system in crisis. Developed by Jump Over The Age and published by Fellow Traveller Games, Citizen Sleeper features stunning character art by Guillaume Singelin and offers a unique gameplay experience that allows players to shape the lives of those around them and ultimately the future of the station.
Citizen Sleeper Storyline
In Citizen Sleeper, players assume the role of a "sleeper," a digitized human consciousness in an artificial body owned by the Essen-Arp corporation. The game is set on Erlin's Eye, an abandoned space station that is home to thousands of people trying to survive on the edges of an interstellar capitalist society. The station is held together by anarchic alliances, ramshackle factions, and a shared desire to be free from the gravity of corporate control.
With every cycle players must choose what to do with their time. They can toil in the yards, take a bar shift, search the markets for rare components, or grab some street food. A wide variety of people from all walks of life gather at the station to make a meager living in space. Salvagers, engineers, hackers, bartenders, and street food vendors—each has a history that brought them here. Players choose which of them they wish to help, and together they will shape their future.
Citizen Sleeper offers A Narrative-RPG Gameplay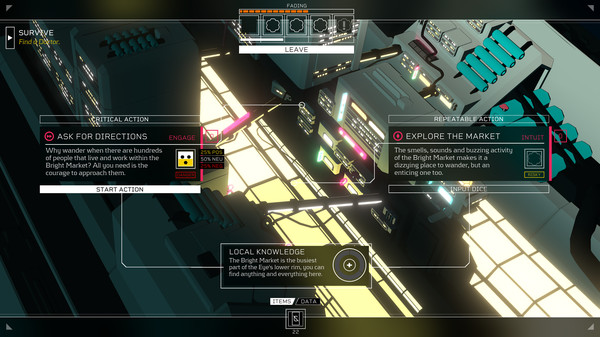 Citizen Sleeper is a narrative-driven RPG that offers a unique gameplay experience. Players roll their dice with each cycle and assign them to a vast range of actions available on the station. Clocks track both the player's actions and the actions of others across the station. From becoming a local at the Overlook Bar to protecting a friend from Yatagan enforcers, clocks also allow players to track their own progress and the influence they have on the world around them.
Hack Into Citizen Sleeper Station Network
One of the unique features of Citizen Sleeper is the ability to hack into the station's cloud to access decades of digital data, uncover new areas, and unlock secrets. This is the player's unique power, and with it, they can change their future. For those willing to delve into the station's networks – top-secret information, rogue AIs, and vast amounts of lost data are waiting.
Release Date and Other Information
Citizen Sleeper was released on May 5, 2022, and has received positive reviews from both critics and gamers. The game can be purchased on Steam and GOG for Windows, Mac, and Linux users for $19.99.
Overall, Citizen Sleeper is a narrative-RPG that offers a unique gameplay experience. With stunning character art, a richly imagined sci-fi world, and a deep exploration of ideas of precarity, personhood, and freedom, Citizen Sleeper is a must-play for fans of the genre. So buckle up and get ready to explore Erlin's Eye, a world filled with danger, intrigue, and adventure.